Camden County New Jersey
Nursing Home Abuse Lawyer
Call me at 609-277-3166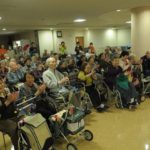 Nursing homes and assisted living facilities in Camden County, New Jersey need to be held accountable for injuries or wrongful death caused by needless neglect or abuse.  If you suspect that a loved one has been neglected or abused at a nursing home or other long-term care facility, it is critical that you retain legal counsel.  Otherwise, the facility may try to deny responsibility including hiding the true cause of the harm.  If you are a family member or beneficiary to a trust from a nursing home abuse victim, call me, Joseph Monaco, Camden County, New Jersey Nursing Home Abuse Lawyer, to learn your rights including how to get protection for your loved one.
Nursing home or assisted living facility claims in Camden County may involve the following:
Resident falls
Dementia patients wondering off the property
Malnutrition and dehydration
Bedsores (pressure ulcers)
Abuse including emotional or sexual
Assaults
Financial exploitation
Medication errors
Improper staffing levels
Failure to properly train staff
Failure to conduct background checks on staff
Joseph Monaco
Second Generation Trial Lawyer
It's hard enough making the decision to place a loved one in a long-term care facility and then adding the stress from learning that they have been needlessly harmed is sometimes more than you can handle.  Contact me, Joseph Monaco,  for help through these most difficult of times.  Call Toll-Free at 855-Joe-Legal for a Free Consultation and the No Recovery, No Fee Guarantee.  As a Second Generation Trial Lawyer, I handle cases for families throughout Camden County including Cherry Hill, Pennsauken and Winslow Township.