Lancaster Pennsylvania
Slip and Fall Lawyer
Call or text me at 717-996-4411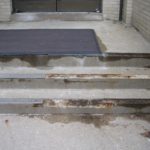 Lancaster, Pennsylvania slip and fall accidents result from someone falling, slipping or tripping because of a defective or dangerous condition.  For example, you can slip and fall on a wet bathroom floor or trip and fall because of an uneven or broken sidewalk.  Pennsylvania law requires property owners, managers, landlords and renters to keep their properties safe for their intended or foreseeable uses.  If you or a loved one have been injured in Lancaster County, Pennsylvania, call me, Joseph Monaco, Lancaster Slip and Fall Lawyer to learn your rights including the recovery of monetary damages.
Common Defenses in Lancaster, Pennsylvania Slip and Fall Cases
One common defense is the property owner arguing that they were not at fault.  For example, the owner or property manager will argue that the liquid on the floor causing the fall had been dropped on the floor only moments before the fall  happened.  Therefore, they did not have enough time to clean it up.
A second defense is that the fall victim is at fault.  They should have seen the substance on the floor or the crack in the sidewalk thereby avoiding it.  However, individuals do not walk with their heads staring at the ground.  You have to be aware of your complete surroundings to avoid walking in front of a car or bicycle.  Also, a store patron may be looking for something on a store shelf and not see the grapes or toy that had fallen to the ground.  Many properties are also poorly illuminated at night.  Pennsylvania has a comparative negligence statute, which means if the fault of the victim is 50% or less, they are entitled to an award of damages.
Lancaster Pennsylvania Premises Liability Lawyer
Lancaster County Pennsylvania Dram Shop Claims (Improperly Serving Alcohol)
9,967 people were killed in the United States in 2014 by drunk driving accidents.  Someone is killed once every 53 minutes.  In Pennsylvania, there are approximately 10,000 alcohol related motor vehicle crashes per year leading to about 350 deaths.  As a Lancaster Pennsylvania Dram Shop Lawyer, I have handled dram shop cases against bars and restaurants that have needlessly served visibly intoxicated patrons, who then cause serious auto accidents leading to wrongful death or serious bodily injuries to others or themselves.  It is also possible for parents to be responsible if their teenager is hosting a party attended by minors.   In some cases, the intoxicated culprit and alcohol provider may be jointly liable for damages.
Responsibility for recklessly or negligently serving liquor in Lancaster, Pennsylvania can happen many ways:
Serving visibly intoxicated customers
Businesses selling or serving alcohol without a license
Providing or selling alcohol to minors
Buying alcohol for a minor who then provides it to other minors
Hotel failing to shut down underage drinking party
Failing to keep alcohol locked and secured with known minors on premises
If you or a loved one have been injured or killed in Lancaster County Pennsylvania, call or text me at 717-996-4411 for a Free Consultation and the No Recovery, No Fee Guarantee.