Lancaster Pennsylvania Car Accident Lawyer
Call or text me at 717-996-4411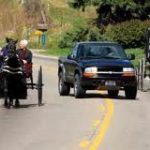 You probably do not think about it often, but operating a car in Lancaster, Pennsylvania, or anywhere for that matter, is serious business.  It is estimated that over 1.2 million people die each year in motor vehicle accidents around the world.  In the United States, there are approximately 30,000 to 40,000 traffic accident fatalities each year.  For Pennsylvania, about 80,000 individuals are injured in traffic accidents each year including approximately 1,100 fatalities.  If you or a loved one have been wrongfully injured or killed in Lancaster County, Pennsylvania, call me, Joseph Monaco, a Lancaster County Car Accident Lawyer, to learn your rights.
Convenient Lancaster Office

240 North Duke Street
Lancaster, PA 17602
No matter how experienced a driver you are, you cannot avoid the reckless or careless conduct of other motorists.  We all observe how frequently other drivers speed or talk on their cell phones or text while driving.  Unfortunately, distracted driving is increasing and so is the frequency of traffic accidents as a result.  No matter what the cause of the accident may be, it is important to hire an experienced trail lawyer.   I have been representing injury victims and their families since 1989 and pride myself on working tirelessly to achieve justice for my clients.  If you hire me, I will handle your case from beginning to end including the initial paperwork through negotiating with the insurance companies and trying the case before a jury.  Insurance Companies are in business to make a profit, not pay you and your family what you deserve.
Lancaster Safe Driving Tips
Maintain a safe following distance behind the vehicle ahead
Look for cross traffic when entering an intersection even if you have the green light
Where comfortable shoes when driving; avoid flip flops
Make sure your car mat is not interfering with the brake or accelerator
Adjust the mirrors and seat before starting off
Do not text or talk on your phone
Pay attention to road conditions such as ice or wet roads
Enter the address into the GPS before beginning your drive
Follow posted speed limits
Let aggressive drivers go ahead or around you; avoid road rage
Make sure the vehicle is mechanically sound including proper tire pressures and smooth windshield wipers
Do not drive while impaired by alcohol or medications
Look carefully both ways before pulling out into a roadway
Be careful turning left in front of oncoming traffic
Make sure you are well rested
Call or text me at 717-996-4411 for a Free Consultation and the No Recovery, No Fee Guarantee.